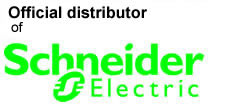 Trading Division
Verger Delporte U.A.E Ltd., has a trading division established since 1984. The Trading Division is the Official Distributor for Schneider Electric-France and as such is totally committed to selling Low Voltage Electric Products from Schneider Electric. The Schneider Logo carries under its umbrella well known brands like Merlin Gerin, Telemecanique, Modicon, Square-D and several other leading brands. Our distribution rights with Schneider are exclusively for Merlin Gerin and Telemecanique. Over the years we have grown in leaps and bounds and have consolidated our strengths by opening new showrooms in strategic locations, in Dubai, Abu Dhabi and the latest one in Qatar.
Having been in the business for over thirty years the company brings with it a wealth of knowledge and goodwill in the selling of Quality Low Voltage Electric Products necessitated by a brisk and sophisticated construction industry. Over the years, we have conferred to the highest Quality of Service and thus our customers know what to expect when they come to us.
The Trading Personnel are periodically provided training sessions by Schenider Personnel at the Local Head Quarters at Jebel Ali, keeping them updated with the latest innovations. Our strength lies at the counter sales where we also offer retro-fit solutions, from Contactors, ELCB's MCB's to the complex Motor Control Centres. With the help of our advanced computerised database, we are able to maintain a wide range of diversified stocks from Schneider Electric for boosting the sales network.
Our determination and proficiency pushes us forward to provide exceptional services to our clients backed up with excellent team of Sales Engineers/Technicians for after sales service. Our Sales Engineers do an excellent job, providing guidance at remote locations and factories.Thus we can say that by offering the best value for money and establishing a long standing relationship with our clients, the Trading Department is here to stay.